Coronavirus Resources for Juvenile Justice and Child Welfare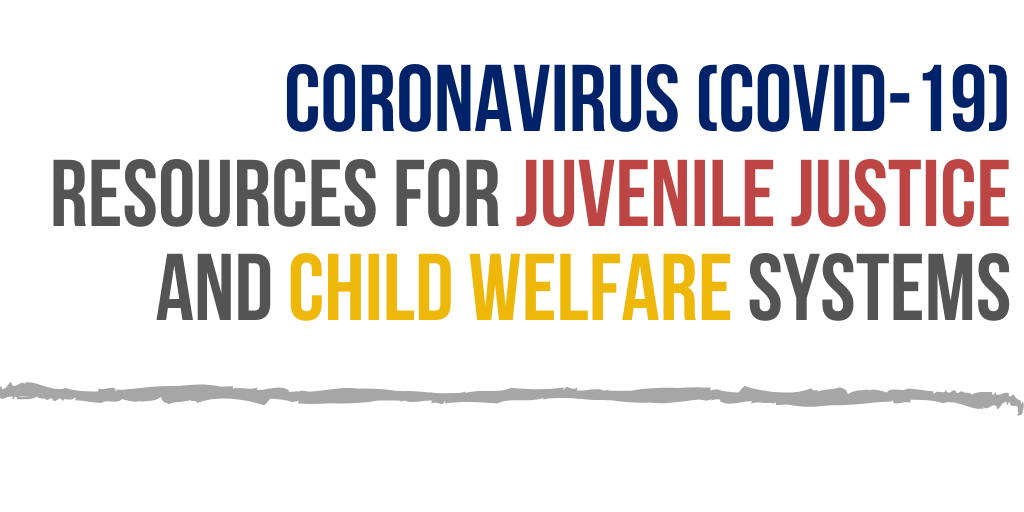 We Are Here to Help
We wish you the best as you navigate the impact of the coronavirus (COVID-19) on your daily life and work. These are undoubtedly difficult times for everyone, including all who work on behalf of youth, families, and communities.
In the face of these challenges, supporting one another becomes all the more important. We've been in contact with many of you over the phone, video chat, and email, and we will continue reaching out. If CJJR can assist your efforts in any way going forward, please do not hesitate to reach out to us.
In the meantime, you can find a list of resources below that we will continually update. This includes general information about the virus, as well as field specific responses and resources for juvenile justice and child welfare.
General COVID-19 Information
The Centers for Disease Control and Prevention (CDC) provide updated information regarding coronavirus (COVID-19).
---
The World Health Organization (WHO) offers information about COVID-19, including symptoms and prevention.
---
Johns Hopkins University's infographic Coronavirus at a Glance explains the symptoms, forms of transmission, and ways to prevent the spread of COVID-19. They also maintain a COVID-19 dashboard to illustrate the number of cases of COVID-19 around the world.
News
The Chronicle of Social Change is keeping a running list of all of their coronavirus-related reporting on child welfare and juvenile justice, including reports on how different states are responding to the pandemic.
---
The editors of Juvenile Justice Information Exchange issued a statement on how their journalistic practices have changed, but their commitment to reporting has not.
---
The Appeal developed an interactive tool to track developments of coronavirus response in state and local governments.
---
The Justice Policy Institute has compiled a selection of news on coronavirus in jails and prisons.
Juvenile Justice
Along with compiling a list of resources on their website, the National Juvenile Justice Network is inputting answers to common questions in a Google Sheet and has curated a Dropbox of documents, letters, and other resources.
---
The National Partnership for Juvenile Services has compiled a list of COVID-19 resources for juvenile services.
---
National Commission on Correctional Health Care created a COVID-19 resources page focused on corrections.
---
The CDC offers interim guidance on COVID-19 management in corrections and detention facilities.
---
The National Conference of State Legislatures hosted webinar (new window) on Juvenile Justice responses to COVID-19.
---
Pew Trusts has published an article, (new window) "Lessons From Juvenile Justice Reforms Could Help Reduce Pandemic's Impact on Confined Youth," which describes how research has shown that population reductions can be done safely.
---
Stop Solitary for Kids is updating a list of statements and recommendations (new window) on the need to release youth from facilities, limit the use of isolation, and increase engagement via phone or video.
---
Strategies for Youth is offering a webinar (new window) on how the COVID-19 pandemic is affecting adolescents and their families, with a focus on positive responses from law enforcement.
---
The Center for Children's Law and Policy issued a "Statement on Urgent Action Needed by Youth Justice Professionals in the Wake of COVID-19 Pandemic."
---
Council of Juvenile Justice Administrators Executive Director Mike Dempsey's COVID-19 Pandemic Action Alert outlines essential actions to protect the health and safety of youth and staff.
---
Act 4 Juvenile Justice put out a statement for youth justice professionals during social distancing, with regard to youth both in secure custody and on probation or community supervision.
---
Vera Institute of Justice has created a series of fact sheets offering Coronavirus Guidance for Criminal and Immigration Legal Systems, including one for youth agencies.
---
The National Council on Crime and Delinquency has a number of resources on COVID-19 and the justice system (new window), including tips for having successful video visits (new window) with children. These resources include guidance for Family Team Meetings, and short surveys around COVID-19 needs.
---
The National Association of Counsel for Children has created a tip sheet on Advocacy and Child's Attorney-Client Relationships during COVID-19.
---
American Probation and Parole Association will continue to update and share resources specific to community corrections.
---
The American Correctional Association has created a COVID-19 page, complete with webinars and resources related to the pandemic.
---
Columbia Justice Lab's Youth Correctional Leaders for Justice issued a press release and statement with recommendations for youth justice systems responding to COVID-19.
---
The Justice Collaborative has collected a number of resources related to the impact of coronavirus on people in secure custody, including both youth and adults. Includes recording of webinar National Emergency Webinar on COVID-19 and Criminal Legal and Immigrant Detention System (March 13, 2020).
---
Racial Equality Tools has compiled a list of tools, analysis, and resources to help communities and activists as they respond to the moment and for the long haul.
---
The Youth Law Center is offering a number of toolkits, policy recommendations, and webinars on their COVID-19 Resource page.
---
Youth justice advocates in 22 States demanded the release of detained and incarcerated youth and the halting of new admissions to protect youth from the spread of COVID-19.
---
The Council of State Governments Justice Center offers seven questions about reentry to consider in relation to COVID-19.
---
The Youth Correctional Leaders for Justice held a digital press conference urging governors and system administrators to release incarcerated youth and halt new admissions to protect youth from COVID-19.
---
Child Welfare
The Child Welfare COVID Website is a collaborative project of non-governmental organizations, including advocacy organizations, that are working together to assess the effects COVID is having on children and family involved in child welfare.
---
The National Indian Child Welfare Association has created a Coronavirus (COVID-19) Resource page that provides guidance and resources, and has hosted several webinars discussing the current crisis as it relates to child welfare.
---
The Child Welfare League of America provides information, news, and resources for child welfare professionals.
---
American Youth Policy Forum is collecting resources pertinent to disadvantaged youth populations, highlighting one off the groups each week.
---
The Chronicle of Social Change wrote a list of considerations for child welfare agencies, from prevention through the "deep end" of systems, as they navigate response to the coronavirus.
---
The Children's Bureau changed its policy regarding video conferencing for caseworker visits. It also has created a virtual visitation resource page.
---
The National Association of Counsel for Children has created a resource hub to help attorneys protect the rights of young people. They have also published a new tip sheet with advocacy ideas for children's attorneys during the public health crisis.
---
The ABA Center on Children and the Law, Section of Civil Rights and Social Justice, and Commission on Youth at Risk hosted a webinar on COVID-19 and Child Welfare Cases. (new window)
---
FosterClub has created a resource hub with information and assistance for young people in and from foster care.
---
Alliance for Children's Rights has put together resources for families staying at home due to COVID-19.
---
Juvenile Law Center created this resource for students who are homeless or with experience in foster care. Their CEO, Sue Vivian Mangold, has also released this statement titled "Zeroed Out: Child Welfare, Juvenile Justice and the Stimulus Bill."
---
Nebraska DHHS' Division of Children and Family Services has developed an FAQ sheet to provide information for providers and partners with respect to questions they may have about COVID-19.
---
California Youth Connection has a running list of resources for foster youth and alumni.
---
The National Council on Crime and Delinquency offers resources for child welfare supervision (new window), safety assessments and planning (new window), and video visits (new window)due to COVID-19 and social distancing.
---
Communications
The Communications Network has created a Coronavirus Crisis Communications Triage Kit.
---
The Frameworks Institute has put together a guidance page on best communications strategies on how to explain health, enhance community, and offer hope.
---
The Nation Center for State Courts recently posted a Tiny Chat video (new window) offering five tips to help courts craft a communications strategy around COVID-19.
---
Bruce Hennes of Hennes Communications wrote about crisis communications related to public health issues, outlined principles for communicating about the coronavirus, and provided links to resources from H1N1 (swine flu) communications that can be adapted for COVID-19.
---
The Rockefeller Foundation issued a report offering guidance for communicating about a public health crisis, how communication impacts response, engaging communities, and more.
---
Education
The U.S. Department of Education has a list of information for school personnel.
---
The Center for Educational Excellence in Alternative Settings is offering a number of instructional resources during the COVID-10 shutdown.
---
The National Center for Youth Law urges the Department of Education to consider children with disabilities.
---
Mental Health and Well-Being
The CDC offers guidance on managing anxiety and stress during the COVID-19 pandemic.
---
The National Child Traumatic Stress Network issued guidance for helping families cope with COVID-19.
---
The Search Institute created this checklist containing 19 ways to connect with young people and build developmental relationships.
---
The American Institutes for Research (AIR) is hosting a podcast series spotlighting resources and responses to COVID-19. The first episode gives advice on finding reliable sources of information and avoiding panic.
---
The National Institute on Drug Abuse from the National Institutes of Health wrote about the potential implications of COVID-19 for individuals with substance use disorders.
---
Miscellaneous
Council of State Governments has a number of COVID-19 resources for state leaders.
---
The National Conference of State Legislatures is offering a series of webinars and additional resources related to COVID-19.
---
The National Congress of American Indians continues to provide support for tribal nations and citizens throughout the pandemic, including advocacy through letters to the administration, and general information and links to resources.
---
The National Governors Association has a coronavirus resources page.
---
The National Center for State Courts is tracking how state courts are responding to the coronavirus.
---
The Center for the Study of Social Policy issued a statement on how responses to the new coronavirus must center people who are most vulnerable.
---
The National Association of Counties is collecting county responses to COVID-19.
---
The Institute for Innovation and Implementation at the University of Maryland School of Social Work is offering a series of conversations (new window) and resources to help those in children's services develop a response to COVID-19.
---
COVID-19 Webinar Series on Juvenile Justice and Child Welfare
Family Is Essential: A Conversation with Family Advocates about COVID-19 and Youth Justice
As youth justice agencies race to prevent and respond to the harms of the novel coronavirus, families are essential partners. In this webinar, hosted by the Vera Institute of Justice and the Center for Juvenile Justice Reform, we will hear directly from family advocates about the actions families need systems to take in the present moment.
The panel discusses how systems can partner with families to release young people from facilities, support them at home under these unprecedented circumstances, and maintain communication and connection with loved ones of young people in custody.
You can find a recording of the webinar below!
Navigating the Impact of COVID-19 on Juvenile Justice Policy and Practice
The COVID-19 pandemic currently presents significant challenges for juvenile justice policy and practice. In the face of this crisis, juvenile justice leaders and partners are working around the clock to keep youth, families, staff, and communities safe.
This webinar, hosted by the Center for Juvenile Justice Reform and the Council of Juvenile Justice Administrators, featured three juvenile justice agency leaders for a discussion of the challenges their agencies are facing and the strategies they are implementing in response. Juvenile justice practitioners and partners are invited to hear how these leaders and their systems are navigating the impact of COVID-19 across various key areas, including:
Meeting the needs of youth and families
Supporting staff wellbeing
Maintaining facility safety and programming
Providing community-based supervision and services
You can watch the webinar in its entirety below: