BSC Aims

This BSC is focused on transforming the youth justice system by revising or eliminating policies and practices that disproportionately or disparately impact youth of color; creating community-based supports; enhancing the alternatives provided to youth to avoid involvement with the formal youth justice system; and wherever possible, addressing socioeconomic disparities. This BSC will build upon the collective experience gained by CJJR and CCLP since 2013 through the development and facilitation of the Reducing Racial and Ethnic Disparities in Juvenile Justice Certificate Program and significantly expand the focus on community-involved and community- based solutions to juvenile justice issues. This, in combination with CJJR's experience in facilitating the implementation of innovative solutions through the use of the BSC methodology, contributes to a BSC that is inclusive, action-oriented, and direct in challenging how the youth justice system has served or disserved youth and families of color.
In this program, jurisdictions will participate in a weeklong Certificate Program focused on understanding the history of racism and white supremacy in America, how it has impacted the development of the youth justice system, and the resulting impact on communities of color that interface with the youth justice system. Following attendance at the Certificate Program, the selected communities will receive technical assistance in the utilization of the BSC methodology to test and implement change processes aimed at transforming the role of the justice system to achieve greater equity and better outcomes for youth, families, and communities of color.
Through this program, communities will be challenged to think introspectively and systemically about both short- and long-term strategies while engaging in a fast-paced change process that is inclusive of youth, families, front-line staff, community partners, and agency or system leadership.
A framework that outlines six domain areas, which reflect key components of a just system for youth and families of color, will guide this BSC.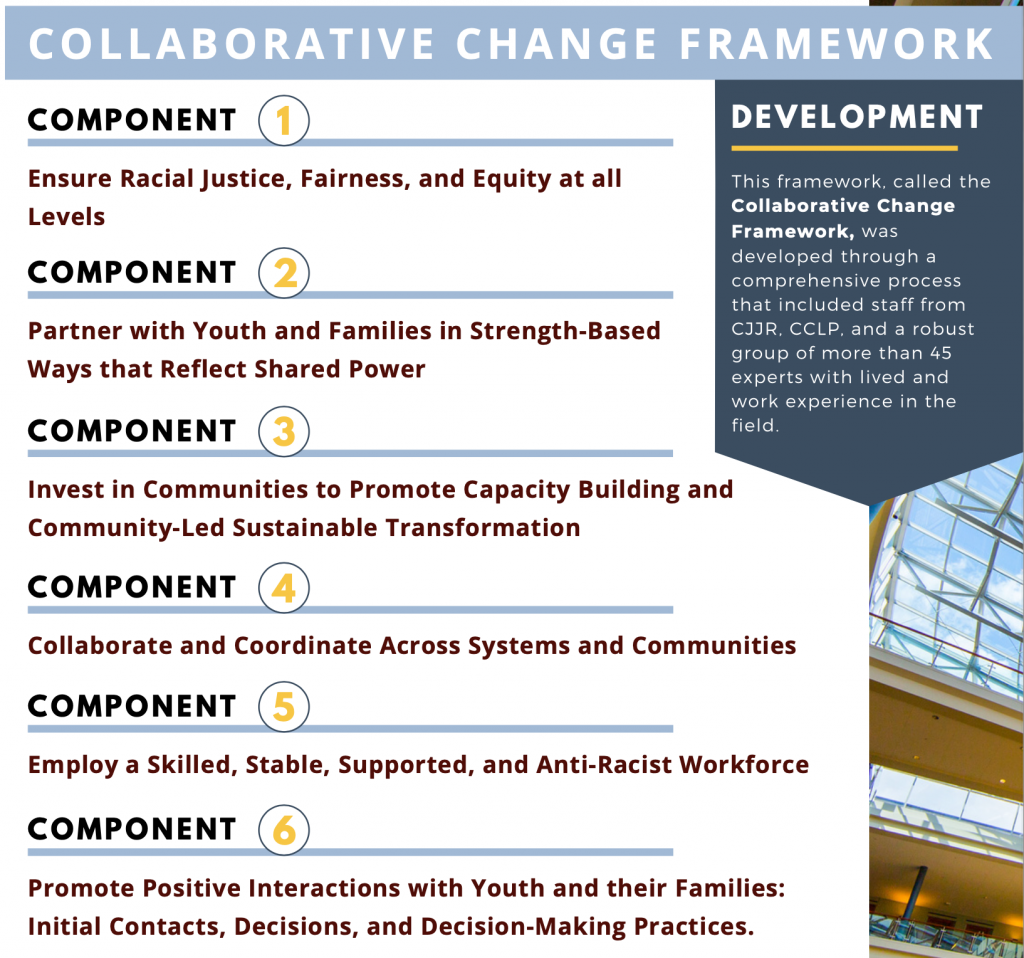 While the six components within the Collaborative Change Framework are interrelated, for the purposes of this BSC, they have been separated into distinct areas as a way of organizing teams' implementation efforts. These components will serve as anchors for teams participating in this BSC. Taken together, the six components describe what teams will need to address in order to achieve the goals of this BSC.
Each participating team will work to make improvements in policies, procedures, and environments across each of these domains