CYPM Background
In 2010, the Center for Juvenile Justice Reform at Georgetown University's McCourt School of Public Policy developed the Crossover Youth Practice Model (herein CYPM or the Model) to help jurisdictions strengthen systems of care that serve crossover youth in order to improve outcomes for youth, families, and communities.
Crossover youth are defined as youth who have experienced abuse and/or neglect and who engage in delinquency.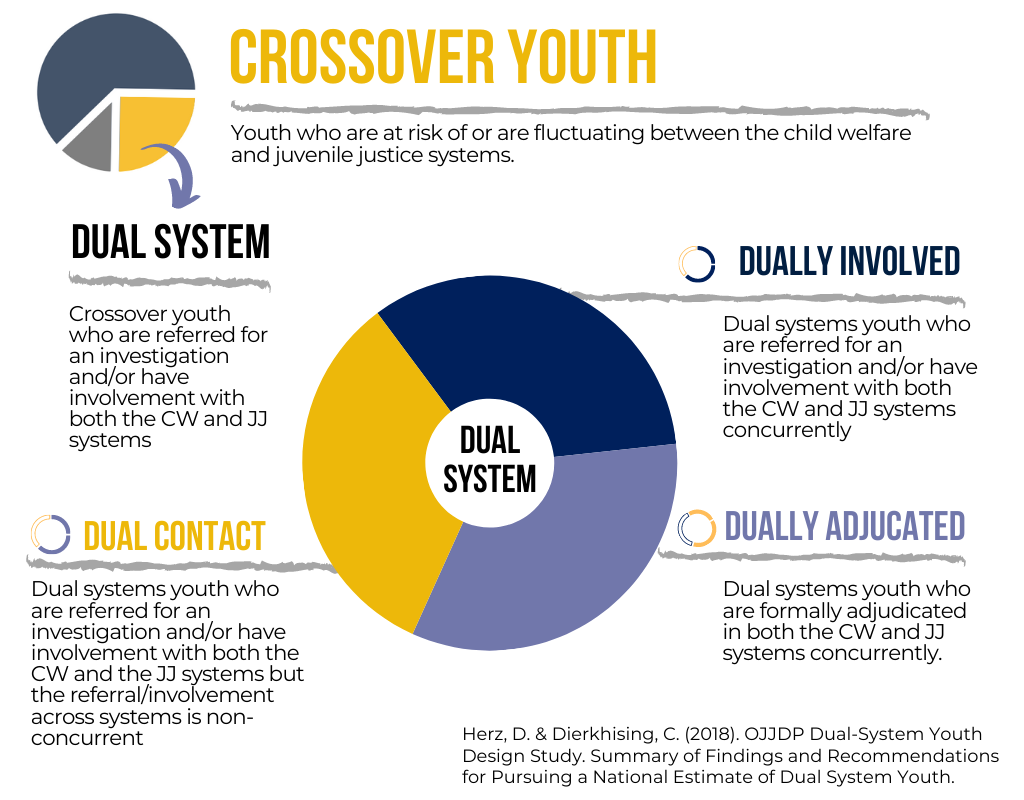 These young people are often known to both the juvenile justice and child welfare systems. Research has established that youth involved with the child welfare system have experiences that increase their likelihood of having contact with the juvenile justice system. Crossover youth, also known as dually involved youth, are a vulnerable population with significant needs. CJJR designed the CYPM to enhance the collaboration between systems that support these individuals. At its core, the CYPM assists jurisdictions to:
Prevent youth from crossing over between the child welfare and juvenile justice systems, and
Enhance interagency collaboration on behalf of those youth to best meet their needs and position them for long-term success.
Implementation of the Model offers participating jurisdictions a groundbreaking opportunity to employ proven strategies that operate to improve the outcomes for youth, their families, and the systems that serve them. This is accomplished through the following mechanisms:
Enhanced education on the characteristics and system experiences of crossover youth;
Training on a proven model of practice to better address the needs of youth;
Utilization of a cross-system data template to inform decision-making;
Development and utilization of effective tools, processes, and strategies to better meet the needs of youth and their families;
Customized technical assistance to support implementation of the Model; and
Support for a focused and structured level of engagement with youth, families, and community.
Additionally, the CYPM focuses on the disproportionate representation of children of color in the child welfare and juvenile justice systems. While this work primarily focuses on youth who are already known to both systems, participating sites also explore practices that can be implemented within each system to prevent young people from crossing over into a second system of care.