The Center for Juvenile Justice Reform at the Georgetown University McCourt School of Public Policy established the Janet Reno Endowment in 2016 to honor and promote the legacy of America's first woman Attorney General. As Attorney General, Janet Reno distinguished herself as a courageous advocate for justice and equality, proving her strong commitment to improving the administration of this country's system of justice, with a particular focus on the juvenile justice and other child-serving systems, such as child welfare, education and behavioral health.
Time and again, she demonstrated her dedication to improving the lives of our nation's most vulnerable young people. To honor this legacy, the Endowment supports efforts that increase awareness about Janet Reno's contributions to our nation's children, provides resources to enhance the ability of individuals and communities to lead reforms, and honors exceptional women leaders. The Endowment helps ensure Janet Reno's dedication to supporting youth is honored and remembered, and that attention to the issues to which she devoted her career is sustained.
Help Support the Endowment
Learn more about how you can support the below activities!
Endowment Activities
To honor Janet Reno's commitment to juvenile justice reform and prevention, CJJR coordinates and manages the following activities:
Women's Leadership Award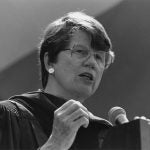 The Endowment supports the Women's Leadership Award which recognizes women leaders who champion the causes to which Janet Reno dedicated her career. This award is given to a nominee who has demonstrated a commitment and ability to effect change in her community or organization to benefit youth, particular those at risk of entering the juvenile justice or child welfare systems. The inaugural Women's Leadership Award was presented to Marian Wright Edelman in April 2017 at the Georgetown University Leadership. Evidence. Analysis. Debate. (LEAD) Conference. In subsequent years, awardees will participate in and be honored at a Janet Reno Forum.
Janet Reno Forums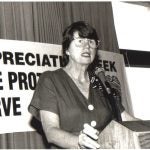 The forums convene leadership experts, policymakers, researchers, practitioners, and advocates to discuss promising practices, new research, and policy reform proposals in the realms of juvenile justice, child welfare, and child and youth development. Each forum will be preceded by the development of a white paper, commissioned for the forum and developed by experts in the field. The paper will be presented at the forum to help frame the discussion.
Janet Reno Leadership Fund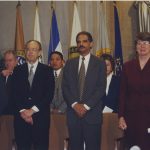 There are two ways the Janet Reno Leadership Fund supports communities seeking to reform the ways they serve at-risk children and youth. First, it provides scholarships for leaders with financial need to attend CJJR's Certificate Programs, which are week- long periods of intensive study using a research-based and data-driven curriculum to improve outcomes for youth involved in multiple systems of care. Second, the Fund supports technical assistance to implement CJJR's Crossover Youth Practice Model and Youth in Custody Practice Model, which promote research-based decision-making as a foundation upon which child-serving systems can reform their policies and practices.
Future Policy Leaders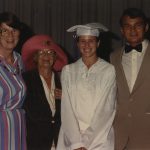 The Endowment's Future Policy Leaders program sponsors one or more Georgetown University McCourt School of Public Policy students annually to serve as research assistants at CJJR. This effort is designed to assist students in deepening their understanding of policy and practice reform processes, as well as offer meaningful work experiences on important issues relating to children and youth systems reform.
An Advocate for Children and Youth
Born on July 21, 1938 in Miami, Florida, Janet Reno received her A.B. degree from Cornell University and her L.L.B. from Harvard Law School where she was just one of 16 women in a class of more than 500 students. In her early career, Reno was the staff director to the Judicial Committee of Florida's House of Representatives, led the redrafting the of state's juvenile code as a consultant to the Florida State Senate Criminal Justice Committee and in 1978 was the first woman ever appointed to serve as the State Attorney of Miami (Dade County).