What is the CYPM?
A practice model is a conceptual map and organizational ideology that includes definitions and explanations regarding how staff partner with families, service providers, and other stakeholders in the delivery of services to achieve positive outcomes for youth and their families.
One of the primary benefits of instituting a practice model is that it provides agencies the ability to align their missions and core principles around this population in a precise manner that influences all aspects of practice. This includes, but is not limited to: training, supervision, case management processes, quality assurance, outcomes, and evaluations.
This particular practice model aims to create changes in the organizational culture that allow all youth-serving systems to: improve practices from the point a youth crosses over to case closure within each system; institute preventative measures that decrease the number of youth crossing over; and alleviate the disparities in treatment for youth served by the systems. The implementation of the elements in this model will also function to improve outcomes for youth served in each system individually.
The focus of this work is to improve the alignment of the juvenile justice agency, child welfare agency, and the family court. This includes active engagement with behavioral health and education to address youth well-being.
Goals of the Crossover Youth Practice Model
Building an infrastructure that supports and utilizes promising practices, encourages engagement of families, and ensures a level of consistency and equity in treatment and services across systems for consumers is critical to effectively serving crossover youth and reflective of the principles and values of the CYPM.
All human services agencies, regardless of their location, aim to improve the lives of the families and youth they serve. The biggest variance between the juvenile justice and child welfare systems are the philosophies that guide how they respectively engage with young people. In the juvenile justice system, staff and partners may primarily strive to address youth's delinquent and criminal behavior. On the other hand, in the child welfare system, staff and partners may view youth as victims and work to nurture and protect them by creating safe familial environments. These varying perspectives often translate into differences in how each agency and system functions, thus creating tension when the two systems interact on shared cases. The Model seeks to alleviate this tension in a manner that promotes cross-systems learning and collaboration.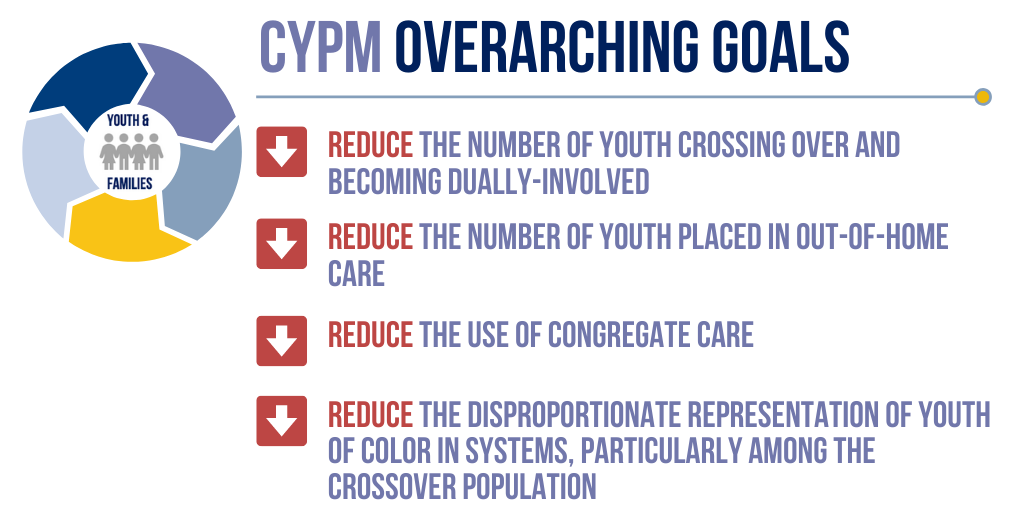 In addition to the achieving the goals above, we anticipate that implementation of the Model will result in the following: