Ending Isolation in Youth Facilities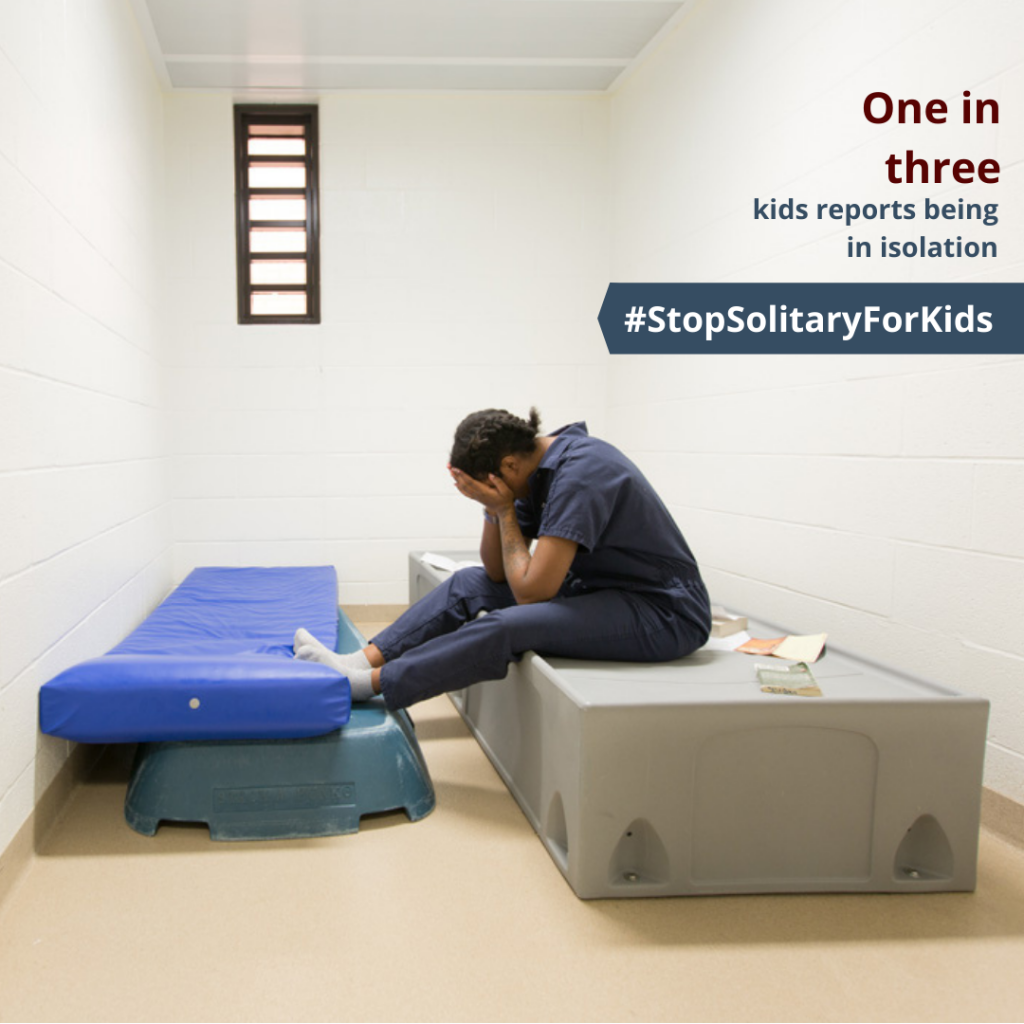 The Ending Isolation in Youth Facilities Certificate Program is designed to support leaders in ending the use of isolation in their jurisdictions and promote positive outcomes for youth, staff, and communities.
Participants will receive instruction from national experts on cutting edge ideas, policies, and practices. Upon completion of the program, participants will receive an Executive Certificate from Georgetown University, membership into CJJR's Fellows Network, and ongoing support from the staff in the implementation of their Capstone Project.
Program Background
Each year, thousands of young people are subjected to isolation in facilities across the country. Isolation can have long-lasting and devastating effects on youth, including trauma, psychosis, depression, anxiety, and increased risk of suicide and self-harm. Many youth in isolation do not receive appropriate education, mental health services, or drug treatment. Because adolescents are still developing, isolation can lead to permanent harm to their physical, psychological, and social growth and well-being. Despite a growing national recognition of isolation's profoundly negative consequences, many facility-based staff, leaders, and partners in the justice system are unfamiliar with effective alternatives to isolation or how to implement those alternatives sustainably over the long term.
CJJR has partnered with the Center for Children's Law and Policy, the Justice Policy Institute, the Council of Juvenile Justice Administrators, and Arnold Ventures to provide this professional development opportunity. This program builds on the Stop Solitary for Kids campaign to end isolation of youth on the national level.
Curriculum
This curriculum lays the groundwork for teams to create safe and supportive conditions in their facilities, use data to track progress, and enhance buy-in from frontline staff and other essential stakeholders. The Certificate Program incorporates case scenarios and other interactive learning activities, giving participants the opportunity to apply the material they have learned. It also promotes cross-team engagement, encouraging jurisdictions to share their on-the-ground experiences, challenges, and strategies.
Specific portions of training modules will be tailored to the needs of the participating jurisdictions, but the core curriculum will include the following modules:
What's Wrong with Using Isolation
This introduction frames the dangers of isolation, including its impact on the physical, psychological, and social well-being of youth and staff and on safety within a facility. Presenters will engage participants in a candid discussion about the challenges—and opportunities—in eliminating the use of isolation. The session also addresses the roles that race and other factors, such as ability, gender identity, and sexual orientation, play in the decision to use isolation.
If Not Isolation, Then What?
"If not this, then what?" is one of the most common questions posed by staff who are facing the prospect of ending a practice they have historically relied upon in their daily efforts. In this module, participants will examine case studies of reduction and elimination of solitary in youth facilities, discussing these and other alternative strategies to address the most challenging incidents faced by youth and staff. Specific topics include:
Setting the Stage for Ending Isolation
A Deeper Look at Behavior Management
The Role of Clinicians in Ending Isolation
Not in Isolation: Strategies for Preventing Incidents in the First Place
This module explores various dimensions that contribute to a culture of safety and wellbeing within a facility and help to prevent undesired incidents from occurring. The session will cover the importance of a rigorous daily schedule (featuring education, programming, recreation, and treatment) that engages and supports youth; the need for strong family and youth engagement and partnership; the role of the physical environment; and de-escalation strategies in promoting a safe and positive facility culture.
It will also feature a discussion between facility-based practitioners exploring concrete strategies for responding to incidents of violence.
Using Data to Track Isolation and Drive Reform
This session examines the role of data collection in ending the use of isolation, addressing:
How to use data to analyze and monitor who gets put into solitary and why, how long youth spend in solitary, how frequently solitary is used in the facility, and what alternatives to solitary currently exist
How to measure and address disparate rates of isolation faced by youth of color, youth with disabilities, and LGBTQ and gender non-conforming youth
How to track the impact of new facility-based approaches as part of the move away from solitary
Moving Away from the Use of Isolation: Driving Culture Change
Culture change is an essential component to ending the use of isolation in youth facilities. This session addresses the following elements:
Beginning with the compass—articulating and communicating the "why" both internally and externally
Policy development—including staff in the process to increase buy-in
Providing opportunities for staff to express their concerns about new policies
Giving staff the tools and support to embrace a new approach
Navigating staff resistance
Identifying and empowering staff and stakeholder champions
Navigating the timeline of transitioning away from isolation
Youth Partnership
This panel discussion will feature young people who have been impacted by the use of isolation. Panelists will share their experiences and discuss how to best support youth both within facilities and upon reentry to the community.
Instructors
Past Certificate Program instructors include:
Abdul Ali, Advocacy Director, Maine Youth Justice
Deidra Bridgeforth, Assistant Chief, Shelby County Sheriff's Office (retired)
Mike Butkovich, Program Director, Utah Division of Juvenile Justice Services
Japheth Claude, Deputy Chief of Program Development, DC Department of Youth Rehabilitation Services
Kelly Dedel, Ph.D., Director, One in 37 Research, Inc.
Mike Dempsey, Executive Director, Council of Juvenile Justice Administrators
Kenya Key, Deputy Director of Health Services, DC Department of Youth Rehabilitation Services
Monique Khumalo, Ph.D., Principal Owner, Youth Trauma and Justice Solutions
Jenny Lutz, J.D., Staff Attorney, Center for Children's Law and Policy
Mike Mireles, Lead Youth Development Specialist, Utah Division of Juvenile Justice Services
Nkosinathi (Natty) Mncube, Restorative Justice Assistant Coordinator, DC Department of Youth Rehabilitation Services
Heidi Mueller, Director, Illinois Department of Juvenile Justice
Meghan Ogle, Ph.D., Stoneleigh Foundation Emerging Leader Fellow, Center for Juvenile Justice Reform
Brett Peterson, Director, Utah Division of Juvenile Justice Services
Iliana Pujols, Policy Director, Connecticut Justice Alliance
Mark Soler, J.D., Executive Director, Center for Children's Law and Policy
Michael Umpierre, J.D., Director, Center for Juvenile Justice Reform
Andrea Weisman, Ph.D., Mental Health Consultant
Application Guidelines
A maximum of five multi-disciplinary teams will be invited for participation in the program. Each team should be composed of eight to ten members who are positioned to enact practice and policy change within their jurisdiction.
Note that all participants will be required to honor Georgetown University's health and safety requirements. The current University policy includes submitting proof of COVID-19 vaccination prior to attendance (including proof of booster, if eligible) and wearing a mask inside the program venue.
It is strongly recommended that team members include the following seven individuals from the agency, facility, and community levels:
Agency Level
This is a representative of the juvenile justice agency that operates or contracts with facilities in the jurisdiction. This includes:
Juvenile justice agency leadership (e.g., director; deputy director responsible for facility operations)
Facility Level
This is a representative from the designated facility that will eliminate solitary. This includes:
Facility leadership (e.g., superintendent)
Facility-based unit supervisor
Facility-based line-level custody staff
Facility-based behavioral health leader or staff
Facility-based educator
Community Level
This is a representative from the community who provides support to youth in custody and/or upon community reentry. This includes:
Community-based provider; youth/family advocate; credible messenger or mentor
Other Team Members
Other team members may include stakeholders and decision-makers in the juvenile justice system who will support and impact the elimination of the use of isolation in the jurisdiction, including:
Judges
Prosecutors
Public defenders
Data/research directors or staff
Training directors
Medical staff
The strongest applicants will have a broad-based commitment to eliminating the use of isolation in their facilities. In this regard, teams should be composed of key system practitioners and policymakers who have shown a capacity to implement reforms, reduce youth incarceration, improve conditions of confinement, and collect and analyze data. Selected teams should also demonstrate an understanding of reform challenges that have arisen to date and a commitment to overcoming those challenges. The best applicants will have a holistic view of how to support youth within their facilities in true partnership with youth, families, and communities.
Tuition and Costs
Arnold Ventures will cover the costs of the Certificate Program tuition, follow-­up Technical Assistance, and Promising Practice Site Visits. Travel to Washington, D.C., including airfare, hotel, and incidental expenses, is the responsibility of the participating jurisdictions; however, breakfast, lunch, and snacks are provided throughout the program.