Supporting LGBTQ Youth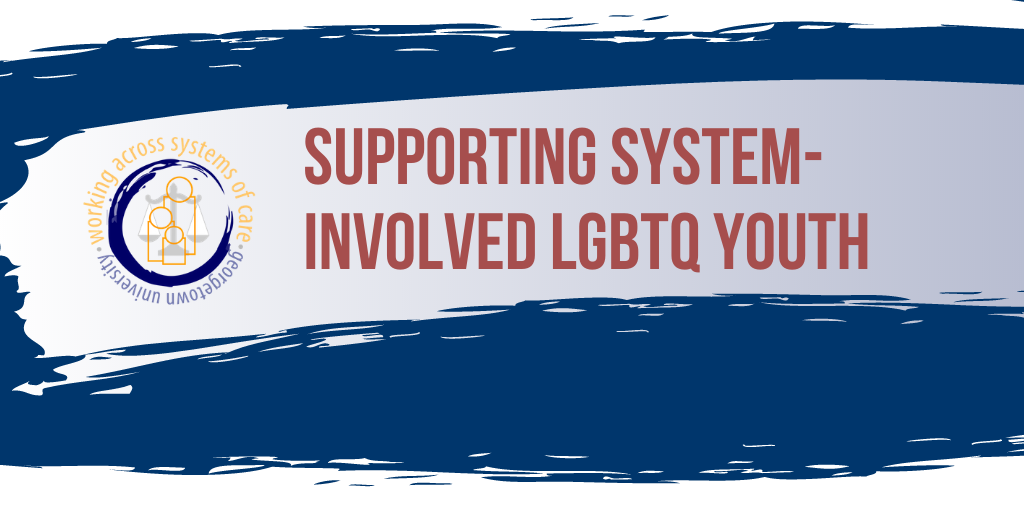 The Supporting the Well-Being of System-Involved LGBTQ Youth Certificate Program is designed to help juvenile justice, child welfare, and other system partners target and improve outcomes for at-risk LGBTQ youth. The program focuses on the particular challenges faced by LGBTQ youth in child-serving systems (including juvenile justice, child welfare, education, and behavioral health) as well as strengths and protective factors common to the population. It highlights effective policy and practice reforms that promote positive youth development and takes a holistic approach to addressing their needs.
Participants will receive instruction from national experts on the terms and concepts related to sexual orientation, gender identity and expression (SOGIE), and how to shape organizational cultures and approaches to support the safety and well-being of LGBTQ youth. This includes guidance on how to:
Develop effective policies, training, and data evaluation efforts;
Better identify and effectively engage LGBTQ youth and their families;
Build community capacity to serve this population; and…
Develop comprehensive and multi-faceted strategies and supports that promote positive youth development.
Specific attention will be paid to the prevalence of multi-system involvement and compounding issues of implicit bias and stigma, racial and ethnic disparities, homelessness and commercial sexual exploitation of LGBTQ youth.
Upon completion of the Certificate Program and submission of an approved Capstone Project, participants will receive an Executive Certificate from Georgetown University, membership into CJJR's Fellows Network, and ongoing support from the CJJR staff.
CJJR has partnered with the National Center for Lesbian Rights and Ceres Policy Research to offer the Supporting LGBTQ Youth Certificate Program.
Curriculum, Instructors, and Application Guidelines
Curriculum
The current curriculum includes the following modules:
Module 1: LGBTQ/SOGIE 101
Understanding SOGIE Terminology and Concepts: This session will provide foundational information to set the stage for the rest of the curriculum, including guiding principles, SOGIE terminology and concepts, risk and protective factors for LGBTQ youth, research on LGBTQ youth in the JJ system and other systems of care, and how to collect SOGIE data to drive reforms.
Module 2: Applying an Intersectional Lens
Treating LGBTQ Youth as Whole People: Understanding that the majority—85%–of LGBTQ youth in the justice system are of color, justice professionals are building relationships with youth who have multiple identities. These youth are also navigating multiple forms of oppression. This session introduces the concept of intersectionality and provides suggestions for serving LGBTQ youth of color in a way that maximizes their well being.
Module 3: Youth and Community Engagement
Youth Panel: Perhaps the most important voice to be heard in a program of this nature is from the youth themselves. This session will consist of LGBTQ youth who will share their experiences and provide insight into how the caseworkers and systems they encountered best supported or failed to support them in their journey.
Module 4: Multi-System Experiences: Holistic Approaches to Serving LGBTQ Youth
This module will provide instruction around the issues LGBTQ youth confront in the juvenile justice, child welfare and other child serving systems, and related policy and practice implications. The module will have an overarching focus on promoting health and well-being, understanding risk and protective factors and utilizing a framework of positive youth development. Specific sections will include Homeless and Runaway Youth; Child Welfare/Crossover Youth; Schools and Disabilities; and LGBTQ Youth in the Juvenile Justice System.
Module 5: Gender Identity and Expression
Family Support Strategies and Interventions: This session will provide an in-depth look at how to engage the families of LGBTQ youth as partners, particularly where there is stigma or lack of support due to a youth's sexual identity or orientation. The session will include interventions to increase family acceptance of LGBTQ youth and family finding, and will focus on how to embed family-focused and strength-based approaches into agency policy and practice and ensure family is defined broadly and provided meaningful opportunity to be involved in planning and care for the youth.
Module 7: Leading System Change
Achieving Comprehensive, Agency-Wide Policy and Practice Change: This module will focus on the experience of four counties that have adopted data sharing policies, SOGIE data collection protocols, analyzed their data, and are in the process of using data-driven decision making to improve outcomes for LGBTQ youth. Change to a panel of SOGIE data initiative sites leaders who can talk about their process, high points, what they learned, etc.
Instructors
Current program instructors may include:
Lydia X.Z. Brown, JD, Associate for Disability Rights and Algorithmic Fairness, Georgetown Institute for Technology Law and Policy; Adjunct Lecturer for the Disability Studies Program, Georgetown Department of English
Aisha Canfield, MPP, Justice Reform Consultant, On Common Ground Consulting, LLC
Currey Cook, JD, Counsel and Director, Youth In Out-of-Home-Care Project, Lambda Legal
Angela Irvine, Ph.D., Principal, Ceres Policy Research
Meghan Maury, JD, Policy Director, National LGBTQ Task Force
Becca Mui, M.Ed., Education Manager, GLSEN
Aydin Olson-Kennedy, LCSW, Executive Director, Los Angeles Gender Center
Johanna Olson-Kennedy, MD, Pediatrician, Division of Adolescent Medicine and Medical Director, Center for Transyouth Health and Development, Children's Hospital Los Angeles
Carolyn Reyes, JD, Regional Managing Attorney, Youth Justice, Bay Area Legal Aid
Mykel Selph, Principal, True Consulting, LLC
Jason Szanyi, JD, Deputy Director, Center for Children's Law and Policy
Shannan Wilber, JD, Youth Policy Director, National Center for Lesbian Rights
Application Guidelines
The Supporting LGBTQ Youth Certificate Program is designed for public and private sector leaders working in the juvenile justice, child welfare, mental health, substance use, education, and other related systems of care that serve youth involved in, or at risk of becoming involved in the juvenile justice system. Those who attend the program will be current and future leaders – individuals who are responsible for, and capable of, effectuating change. Participants can be from the local or state level and may include individuals working on best practices for this population at the national level.
While individuals will be permitted, interested applicants are strongly encouraged to apply as a team to increase their ability to implement reform upon completion of the Certificate Program. Applicants are encouraged to form teams of no more than eight people. Ideally, teams will include the most senior juvenile justice professional in the jurisdiction and representatives from core partners, including behavioral health and child welfare agencies, schools and community-based organizations.
Strongly recommended team members include:
Juvenile justice agency director / most senior juvenile justice leader in the jurisdiction, and/or key juvenile justice management staff, such as Program Directors, Deputy Directors, facility management, etc.
Leaders from partner agencies including child welfare, behavioral health, education, and community organizations focused on this population of children and youth
Recommended team members include:
A judge or others from the court system
Treatment providers
Law enforcement
Probation/Parole Officer
The exact composition of the team will depend on the specific goals of the team. Selection decisions will focus heavily on participants' readiness for implementing reforms, assessed by asking applicants to summarize their role in past reform efforts, especially efforts that engaged leaders in other systems, and their agency's relationship with other child-serving agencies. Applicants should identify the barriers they have experienced in undertaking this work and what efforts they have taken to overcome those barriers. We are looking for participants who are seeking to build on their successes or overcome challenges, thereby being in a position to most benefit from the instruction and technical assistance they will receive during the Certificate Program and as Fellows. The strength of team composition will also be considered within the context of the goals of the team.
This program is NOT accepting applications from students who do not also hold a professional role in a child serving organization.
More Information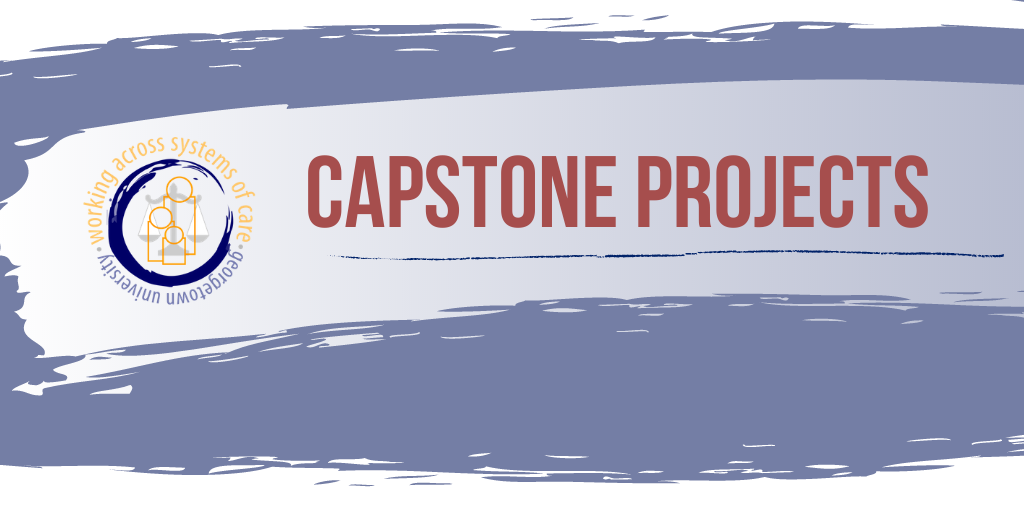 As part of the Certificate Program, participants are required to develop and implement a Capstone Project during the twelve-month period following the completion of their Certificate Program session.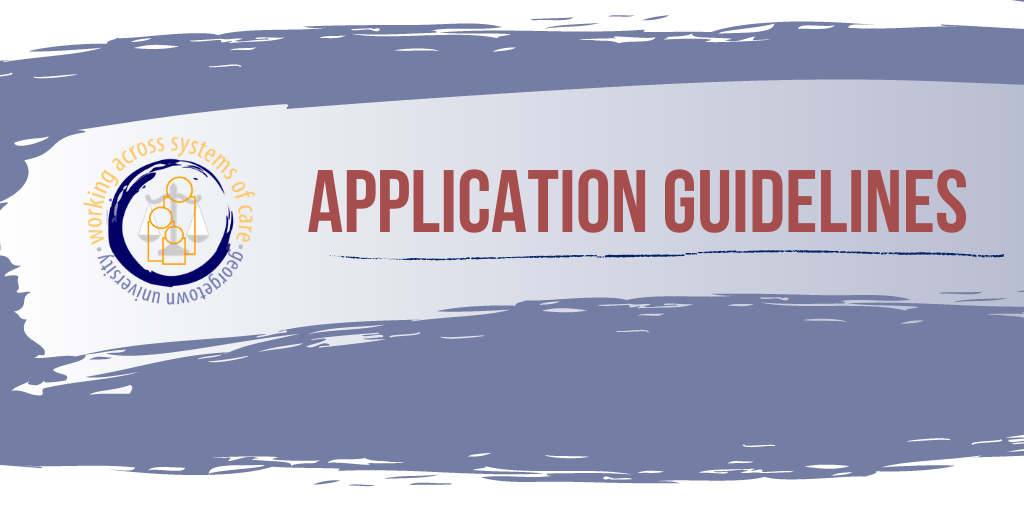 The primary goal of all of our Certificate Programs is not simply knowledge, but effective implementation in a local reform effort. We study "what works" and collaborate with leaders to bridge the gap between theory and practice.