BSC Application Process

INTERESTED SITES WEBINAR
If your jurisdiction has more questions and is considering applying, we invite you to participate in one or both of the informational webinars scheduled for June 8th at 1pm ET and July 12th at 3pm ET. Participation in the webinars is not a pre-requisite to apply. However, the webinars will provide additional information about the program, the application process, and the BSC methodology.
You can watch the recording of the June 8th Webinar below!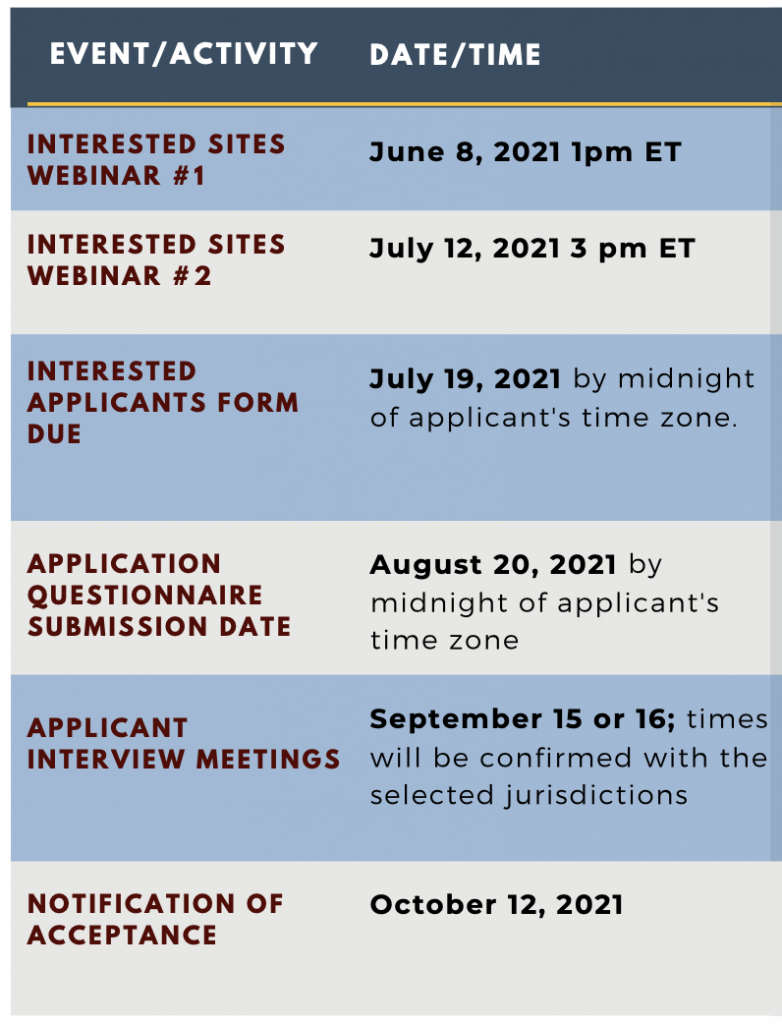 Interested Sites June 8th Webinar
INTERESTED APPLICANTS FORM
If your jurisdiction has an interest in applying to participate in this BSC, we encourage you to submit an Interested Applicants Form to jjreform@georgetown.edu by midnight of the applicant's time zone on July 19th. Submission of this form is not a pre-requisite to apply. However, CJJR will ensure you receive reminders and follow-up regarding the application timeline should you choose to submit a form. You can download the Interested Applicants Form below, or fill it out online here.
BSC OFFICE HOURS
We will also be holding "Office Hours" for interested communities to join a Zoom meeting and ask any questions they may have. You can find the times and links for these events below.
Thursday, June 24th 10-11am ET
https://georgetown.zoom.us/j/94121334238 (new window)
‪(US) +1 301-715-8592‬ (new window) ID: 94121334238
Thursday, July 8th 2-3pm ET
https://georgetown.zoom.us/j/98707966582 (new window)‪(US) (new window)
+1 646-558-8656‬ (new window) ID: 98707966582

Tuesday, August 3rd 2-3pm ET
https://georgetown.zoom.us/j/94068333533 (new window)
‪(US) +1 669-219-2599‬ (new window) ID: 94068333533
APPLICATION SUBMISSION
In consideration of applying, we recommend that each jurisdiction convene a team of senior leaders and potential core team members to review the information contained in this document (and provided during the webinars) and discuss the current capacity within the jurisdiction to support this effort. Once consensus has been reached, we encourage the Core Team members to work together to gather all of the information required in the attached application and submit it to CJJR by midnight of the applicant's local time zone on August 20, 2021. The application can be submitted as an email attachment to jjreform@georgetown.edu.
SELECTION PROCESS
A panel consisting of staff from CJJR, CCLP, and BSC consultants will review the applications. Successful BSC applicants will:
Exhibit knowledge/understanding of the structural racism that leads to disparities for youth of color in the youth justice system;
Have the proposed leadership, Core Team, and infrastructure needed to make practice, policy, and organizational changes;
Display a commitment across their Core team and more broadly to promoting and practicing anti-racism, examining drivers of youth of color into the youth justice system, and supporting changes;
Have a willingness to test rapid changes in practices, services, and environments; Exhibit an interest in and commitment to positively impacting the lives of youth of color who are at risk of involvement or who are involved in the youth justice system; and Have an interest and commitment to including youth and families with lived experience as authentic partners in change initiatives and as leaders of their own lives.
Have a demonstrated commitment to working across systems, e.g., child welfare, behavioral health and education.
APPLICATION INTERVIEWS
Based upon the initial screening of applicants, interviews will be conducted with a subset of finalist jurisdictions on September 15th-16th. The purpose of this interview is for CJJR and CCLP to engage directly with the jurisdiction about their awareness of systemic race and equity issues, and to understand their motivation for and commitment to the changes in the youth justice system contemplated by this BSC. Each finalist team will be asked a short series of questions in effort to better understand their application. Based on the strength of the applications and the information provided in the interviews, up to eight jurisdictions will be selected to participate.
NOTICE OF ACCEPTANCE
The selected jurisdictions will be notified on October 12th. The contact person listed in the Application Questionnaire will be notified via email.
IMPORTANT DATES FOR SELECTED TEAMS
Selected teams will need to hold the following dates on their calendars. Each "Core Team" member must submit registration information required by Georgetown University via Submittable. CJJR will provide selected teams with more specific guidance following notification of selection. Dates for Learning Sessions 1, 2, and 3 will be identified following team selection.