BSC Team Creation

Each participating local or tribal jurisdiction must create a 9-member Core Team (note that we will also accept a joint application from a local and tribal jurisdiction). This team of individuals needs to represent a specific range of partners that reflect the composition of the consumers, community, and those who work within the youth justice system. These team members will actively participate in the BSC by representing your team at the Certificate Program and subsequent in-person Learning Sessions and engage in all subsequent collaborative activities.
As communities are often unique in administrative structure, leadership roles, and integration of support and programmatic services, team composition requirements are outlined by Role, Definition of Role, and suggested Personnel Types that can fulfill those roles. Please refer to the Core Team Composition table below.
Core Team Composition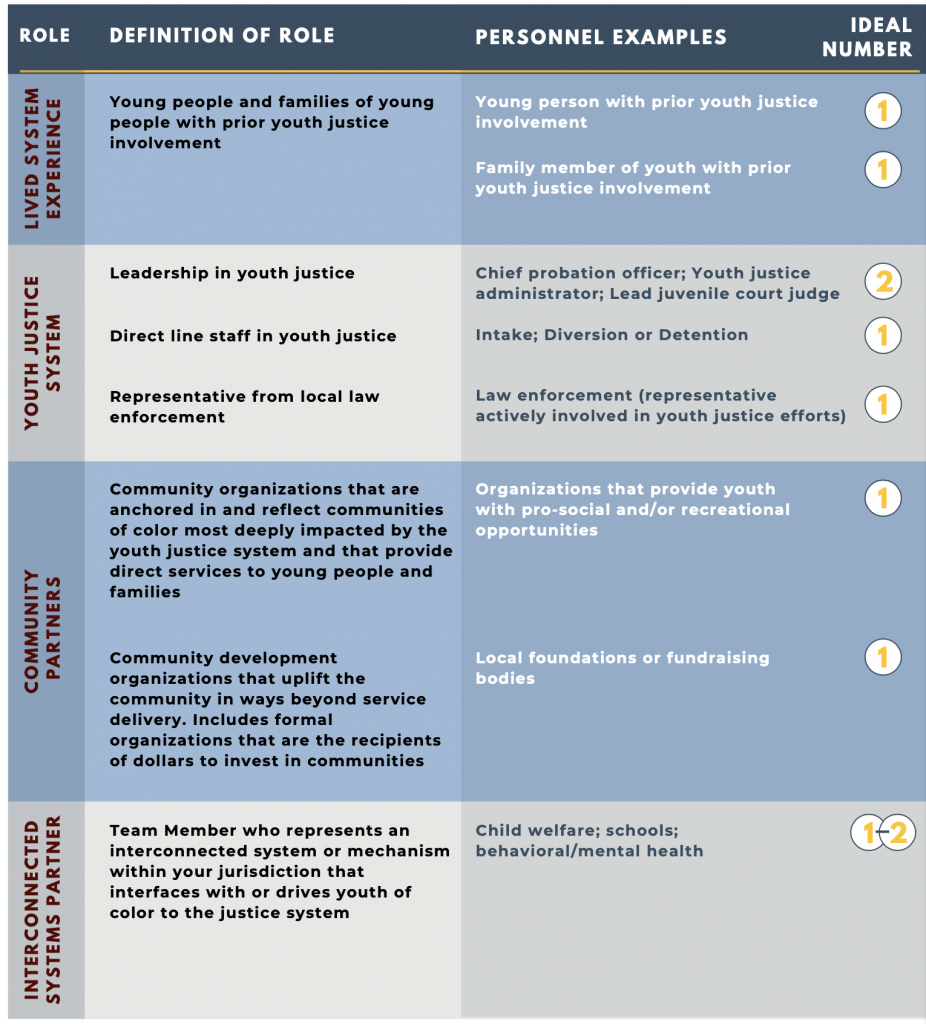 The "Core Team" size will include no more than 9 individuals and be composed of members from each role as noted above. Barring any unforeseen circumstances, each "Core Team" member is expected to attend the Certificate Program and all three in-person Learning Sessions. The "Core Team" member representing the "Interconnected System Partner" should be selected based on your jurisdiction's data demonstrating that the particular system or mechanism drives a significant number or percentage of youth of color to the youth justice system. Because a key aspect of the BSC process is testing, growing, spreading, and sustaining changes quickly and in real settings, all roles described above are essential for a successful "Core Team."
The goal is to have the same members in each role attend the Certificate Program and all three Learning Sessions, participate in all scheduled activities, and carry out their role throughout the entire implementation period of the BSC. Selections for Core Team members should carefully consider the time commitment involved in the BSC process. It is anticipated that "Core Team" members will spend 2-5% of their work time serving on this team during the collaborative, in addition to the time spent traveling to and participating in the Certificate Program and three Learning Sessions.
In completion of the Application Questionnaire, three members of the "Core Team" will need to be specifically identified for the roles of BSC Day-to-Day Manager and Co-Senior Leaders. These people will be included in one of the roles previously noted, but will also have additional responsibilities.
DAY-TO-DAY MANAGER
The BSC Day-to-Day Manager will oversee and support the activities of both the "CoreTeam" and "Extended Team" including planning rapid tests of change, documenting tests, studying tests, adjusting tests, managing metrics, and communicating successes that should be spread. It is anticipated that the BSC Day-to-Day Manager will spend 5-10% of their work time serving in this role during the collaborative, inclusive of their role as a "Core Team" member.
CO-SENIOR LEADERS
The Co-Senior Leaders will demonstrate a leadership commitment to create and sustain a culture of change that embraces the quality improvement methodology (embodied in the BSC) and continually seek out opportunities to broaden the reach, scope, and sustainability of the work of the BSC throughout the agency. Co-Senior leaders should anticipate spending 2-5% of their work time serving in this role during the collaborative, inclusive of their role as a "Core Team" member.
The first Senior Leader should be either:
A youth or family member with lived system experience, or
A representative from a community-based organization that is deeply connected to communities of color most deeply impacted by the system or that works with youth at-risk for system involvement.
This youth/family or community Senior Leader should have a high level of commitment to systems change, preferably with a connection to front-line/community-based work to aid in galvanizing this effort. Local leadership should support and empower the youth/family member in serving in this role.
The second Senior Leader should oversee operations for the front end of the youth justice system and/or maintain high-level authority over policies, practices, and decision-making in the system.
In completing the Application Questionnaire, you will be asked to identify your "Core Team" members, including names, emails, current positions, history of engagement in and commitment to racial equity efforts for youth at risk of involvement or youth involved in the youth justice system, and the role they will be representing.
Extended Team Composition
The function of the "Extended Team" is to amplify and expand the work of the "Core Team" so when the BSC concludes, the improvements made by teams can be sustained and spread to other programs, agencies, and across the jurisdiction's entire youth justice system. CJJR and CCLP will work with the participating jurisdictions to establish these teams after admission into the BSC.
As outlined in the Expectations for Participation section (Section 6, pg. 9), "Extended Team" members are expected to be involved in all aspects of the BSC with the exception of attending the Certificate Program and Learning Sessions. "Extended Team" development is expected to be an iterative process with the refining and onboarding of members happening over time based on the team's BSC goals and progress. "Extended Team" members will be important in providing additional leverage for implementation efforts, providing feedback for proposed changes/ improvements, testing additional changes/improvements, and connecting to community partners in your area that might be able to provide support in identifying and developing alternatives to system involvement. "Extended Team" members should anticipate spending 2-5% of their work time serving as members of this team during the collaborative.
Recommended "Extended Team" members include:
youth and families of youth with lived system experience
direct service staff, supervisors, and managers in youth justice
law enforcement
community partners such as faith-based organizations, civic groups, or other neighborhood groups
community stakeholders and providers, such as mental health, social services, or education agencies/organizations
county executives or other individuals with the ability to effect policy change or reallocate funds within a community, e.g., community development leaders, county manager, and local foundations
prosecutors
public defenders/defense counsel
presiding juvenile court judge or other judicial officials
As drivers of this change effort, we strongly encourage sites to include young people and families of young people with lived system experience as authentic members of the proposed "Extended Team."
Before accessing the Selection Questionnaire, consider how you will select and engage "Extended Team" members to support your "Core Team," even if you do not yet know precisely who will be on that team. Following team selection, CJJR and CCLP will work with jurisdictions to develop the "Extended Team" and the structure for how the team will function based on the needs of the community.