BSC Certificate Program

The Transforming the Youth Justice System Certificate Program combines elements from both the Reducing Racial and Ethnic Disparities in Juvenile Justice Certificate Program and the Breakthrough Series Collaborative framework and methodology.
This intensive training is action-focused and designed to support local and tribal jurisdictions in their efforts to reduce racial and ethnic disparities and transform the role of the justice system to achieve greater equity and better outcomes for youth, families and communities of color. Participating teams will commit to eliminating the over-representation of youth of color in the youth justice system, their unnecessary entry and movement deeper into the system, and the disparate treatment of youth of color as compared to white youth. The Certificate Program curriculum addresses racism, trauma, and the need for family/youth partnerships. It also examines how to combat disparities at each decision point, exploring specific strategies to implement anti-racist policies and practices at an agency level.
During the weeklong Certificate Program in Washington, D.C., selected teams will gain a deeper understanding of the history and evolution of systemic racism in the United States, strategies that will support safely diverting youth out of the youth justice system, and ways to reduce their penetration into the system. They will also learn how to utilize the BSC methodology to achieve system transformations through small tests of change.
The primary objectives for this program include: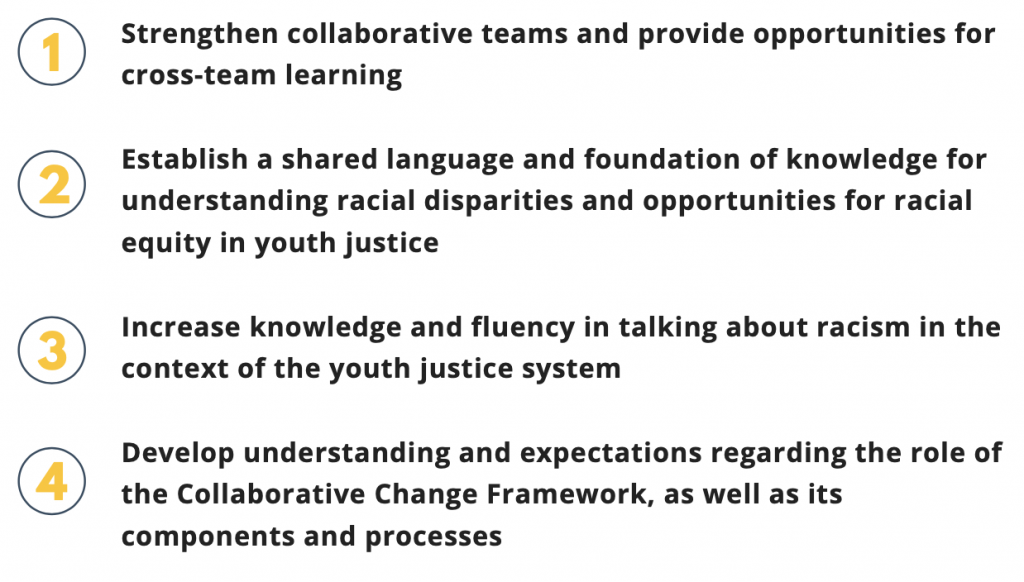 After completing the program, participants will be responsible for testing ideas and strategies connected to the six BSC domains, as well as for tracking and evaluating their progress on a monthly basis. For their participation in the Certificate Program, attendees will receive an Executive Certificate from Georgetown University.