Announcing Kristin Henning as a Featured Speaker for 2021 Janet Reno Forum
Posted in Announcements News Uncategorized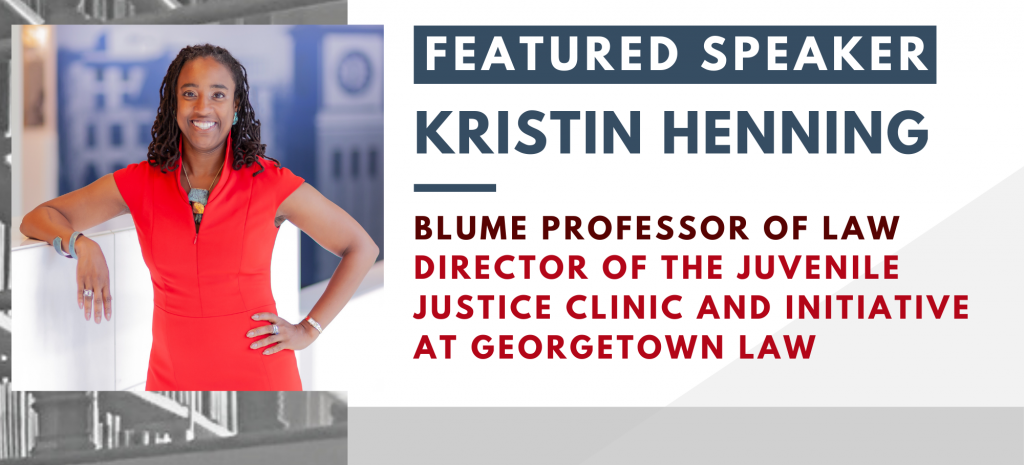 This week, we continue our series of releases regarding our line-up of speakers and panelists for the Forum. We could not be more proud or excited to announce that Kristin Henning will be joining us in July as a featured speaker!
Kristin Henning is the Blume Professor of Law and the Director of the Juvenile Justice Clinic at Georgetown Law, where she and her law students represent youth accused of delinquency in Washington, DC. Kris was previously the Lead Attorney for the Juvenile Unit of the D.C. Public Defender Service and is currently the Director of the Mid-Atlantic Juvenile Defender Center.
Kris has trained state actors across the country on the impact of racial bias in the juvenile and criminal legal systems. Her workshops help stakeholders recognize their own biases and develop strategies to counter it. Kris also worked closely with the McArthur Foundation's Juvenile Indigent Defense Action Network to develop a 41-volume Juvenile Training Immersion Program (JTIP), a national training curriculum for juvenile defenders. She now co-hosts, with the National Juvenile Defender Center (NJDC), an annual week-long JTIP summer academy for defenders. In 2019, Kris partnered with NJDC to launch a Racial Justice Toolkit for youth advocates, and again in 2020, to launch the Ambassadors for Racial Justice program, a year-long program for juvenile defenders committed to challenging racial injustice in the juvenile legal system through litigation and systemic reform.
Kris writes extensively about race, adolescence, and policing. Her new book, The Rage of Innocence: How America Criminalizes Black Youth (new window), is forthcoming with Penguin Random House in 2021. Henning serves on the Board of Directors for the Center for Children's Law and Policy, the ABA's Juvenile Justice Standards Task Force, and ALI's Restatement on Children and the Law project.