Capstone of the Year Award
The Capstone of the Year Award recognizes the Certificate Program participant or team that has made the most significant progress through their Capstone Project in promoting the well-being of youth through multi-system approaches in their community. The recipient of this award can be any CJJR Fellow from any year. The winner of the award will receive a personalized plaque and free tuition and travel for two team members, designated by the team, to CJJR's annual Janet Reno Forum. First distributed in March 2012, this award marks the beginning of an annual CJJR practice to honor and recognize the success, innovation, and tremendous work of CJJR Fellows via their Capstone Projects.
After attending the 2017 Youth in Custody Certificate Program, the Bexar County, Texas team centered their Capstone Project on supporting youth in secure residential care to transition back into their communities. They focused their effort in a specific local facility, the Krier Center, building readiness for meaningful academic and employment opportunities for youth. In particular, the team created academic, vocational, technological, and life skills programs with support from the County Juvenile Probation Department, East Central Independent School District, County District Attorney's Office, and other community-based partners.
Read more about Bexar County team's Capstone Project here.
The Pine County team is composed of leaders from the East Central Public Schools, Mille Lacs Band of Ojibwe, Probation, Health and Human Services, and the County Attorney's Office. Through its Capstone Project, the Pine County team collaborated to design a comprehensive reform effort that addresses truancy and disciplinary practices issues in schools. With the explicit goals of reducing school-based referrals into the juvenile justice system, increasing student attendance rates, and decreasing the number of youth crossing over from the child welfare system into the juvenile justice system, the team created Project RISE (Restorative Investment for Student Empowerment) to achieve better outcomes for youth and families in Pine County.
Read more about Pine County team's Capstone Project here.
The Eastern Band of Cherokee Indians (EBCI), North Carolina team from CJJR's 2012 Multi-System Integration Certificate Program has been awarded the 2017 Capstone of the Year Award. Through their Capstone Project, the EBCI team built an integrated juvenile justice and child welfare system using the Results-Based Accountability framework. The team also restructured their existing tribal programs, created the Public Health and Human Services (PHHS) within EBCI government, and placed all child- and family-serving systems under one administrative authority in order to deliver a coordinated and effective service model. In October 2015, the PHHS officially began exercising its authority to provide comprehensive child protection and welfare services.
Read more about EBCI team's project here.
Fairfax County, Virginia team from CJJR's 2014 Juvenile Diversion Certificate Program is the winner of 2016 Capstone of the Year Award. After attending the program, the team developed and implemented a Capstone Project aimed at improving outcomes for youth participating in diversion and restorative justice programs in Fairfax County. In addition to demonstrating strong, multi-system collaboration designed to increase successful program completion and decrease recidivism, the team is using a data-driven approach to reduce racial and ethnic disparities at the point of system referral.
Read more about Fairfax County team's project here.
CJJR is proud to announce Kathleen Sande of Washington State as the winner of the 2015 Capstone of the Year Award. Kathleen's Capstone Project, a case-management model, focuses on providing one-on-one support services in schools for youth at risk of entering or involved in the juvenile justice system. As the Title I, Part D, Coordinator, Washington Office of Superintendent of Public Instruction (OSPI), Kathleen seeks to address the needs of both incarcerated juveniles as well as at-risk youth in Washington State. Since her participation in the CJJR Multi-System Integration Certificate Program in 2008, she has successfully supported the implementation of Education Advocate (EA) positions throughout Washington utilizing Federal U.S. Department of Education Title I, Part D No Child Left Behind funding.
Read more about Kathleen's project here.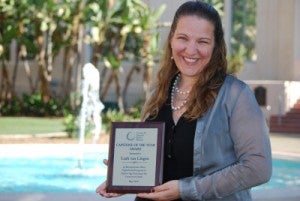 Leah van Lingen of San Diego County is the winner of the 2014 Capstone of the Year Award. Leah's capstone project focuses on early childhood interventions as a way to decrease the number of child welfare involved youth entering the juvenile justice system. As a Child Welfare Services (CWS) Policy Analyst in San Diego, Leah has successfully supported the implementation of KidSTART, a unique program for young children ages 0-5 with complex developmental and health needs. Because of the County's excellent work, Leah has made significant progress on her capstone and in San Diego's ability to meet the individual needs of young children.
Read more about KidSTART here.
CJRR is excited to announce that Peter Forbes (Assistant Commissioner for Operations) and Lisa Belmarsh (Director of Policy and Training) of the Massachusetts Department of Youth Services (DYS) are the winners of the 2012 Capstone of the Year Award. The winners of this year's award have focused their reforms on decreasing the use of pre-trial secure detention for child welfare involved youth throughout Massachusetts, and as a result of their tireless efforts, they have made significant progress towards their goals.
Read more about Peter and Lisa's project here.