2021 Janet Reno Forum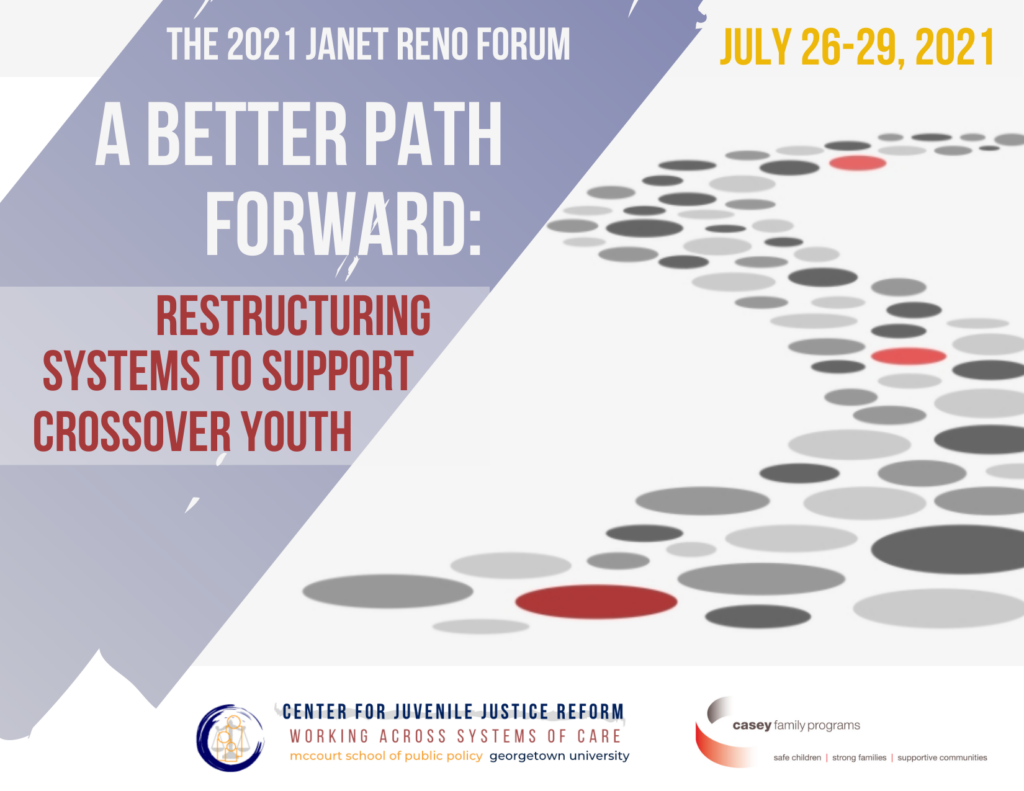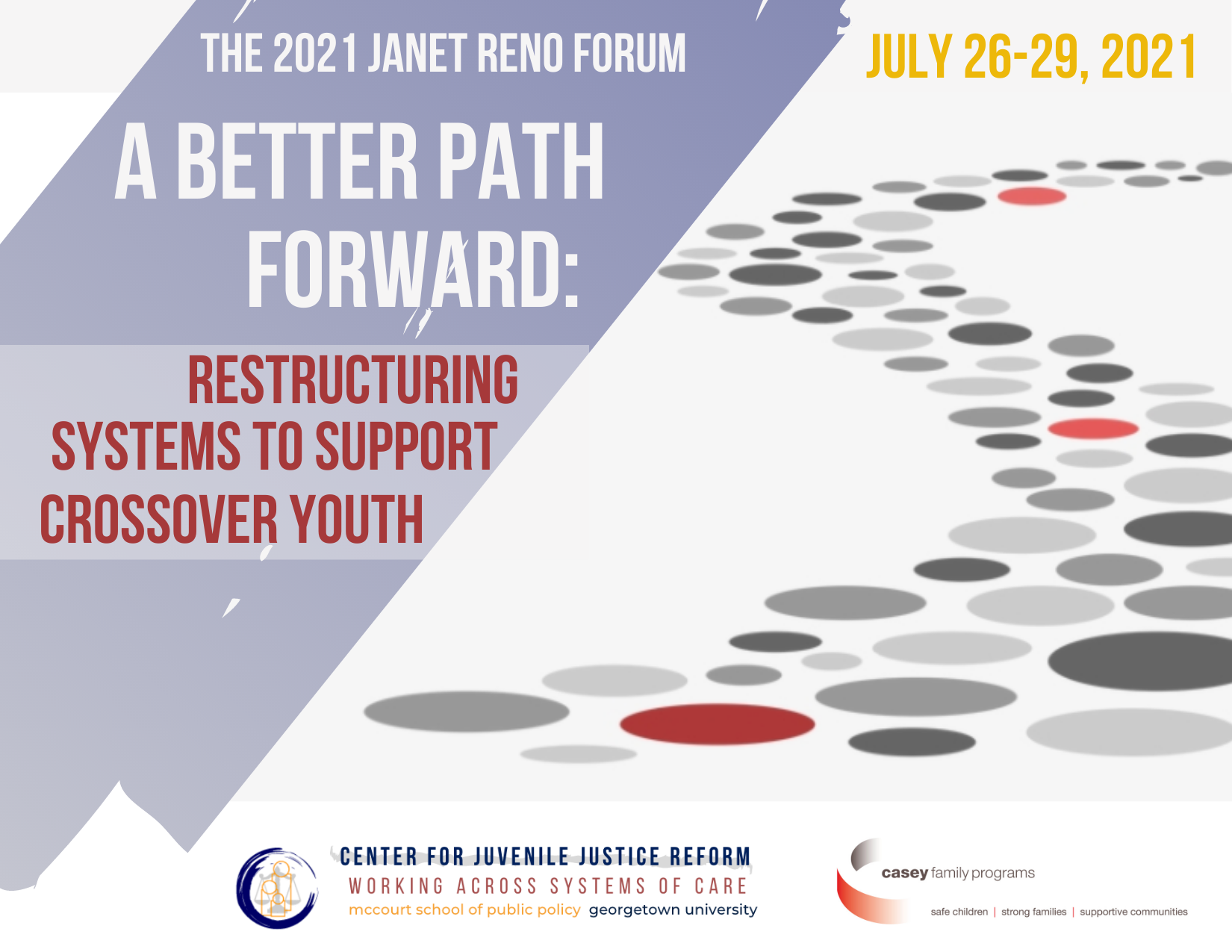 A Better Path Forward: Restructuring Systems to Support Crossover Youth
The Center for Juvenile Justice Reform, in partnership with Casey Family Programs, is delighted to invite you to the 2021 Janet Reno Forum. The Forum will explore the paths systems can take to support crossover youth—young people who are involved in the child welfare and juvenile justice systems.

From July 26 to July 29, we will center the experiences of youth and families impacted by the juvenile justice and child welfare systems through a virtual conference that allows for national participation.
How can we restructure our systems to better support crossover youth?
​​​​​​​Alongside a host of high-profile keynote speakers and expert presentations, we will spotlight opportunities for change in a series of topical sessions.
Addressing the Needs of Youth sessions, we will focus on the needs of commercially sexually exploited youth, youth of color, and LGBTQ+ youth.
Building New Roads Between Systems sessions, we will concentrate on the value of data, case practice, and leveraging the Family First Prevention Services Act.
Using Experiences to Shape Systems sessions, we will hear directly from staff, families, and young people about their experiences within juvenile justice and child welfare systems.

For more than a decade, the Center for Juvenile Justice Reform has collaborated with partners in 23 states and more than 120 jurisdictions to implement the Crossover Youth Practice Model.
The Forum will leverage this wealth of practical knowledge—and the voices of diverse practitioners and constituents across the country—to engage in a robust conversation on how to improve our youth- and family-serving systems. At the conclusion of the Forum, participants can expect to be prepared to take immediate steps toward helping our most vulnerable youth.

In the weeks and months to come, we will be releasing spotlight materials introducing the conference's topics. ​​​​​​ We hope you can join us, both in July, and in the run-up to the Forum, as we learn more about these issues!

This week, we are proud to release a new Crossover Youth Spotlight Video on the efforts in the City of Alexandria, Virginia.
For nearly a year, communities have felt themselves depleted by the effects of COVID-19. The pandemic has caused many systems to triage their efforts, with all but the core functions of agencies being put on pause. Here, the Crossover Youth Practice Model (CYPM) team from the City of Alexandria, Virginia describes the ways in which their history of partnership, their strong leadership, and their multi-system planning for CYPM implementation have helped them maintain a focus on crossover youth, even during the COVID-19 pandemic. The team's continued emphasis on system improvement for crossover youth underscores the imperative role that supportive leadership and personal connection play in achieving strong multi-system collaboration.

This week, we're proud to release a new infographic featuring information about Crossover Youth.
Learn more about who crossover youth are, and the unique challenges they face.
You can view and download the infographic by clicking on the image.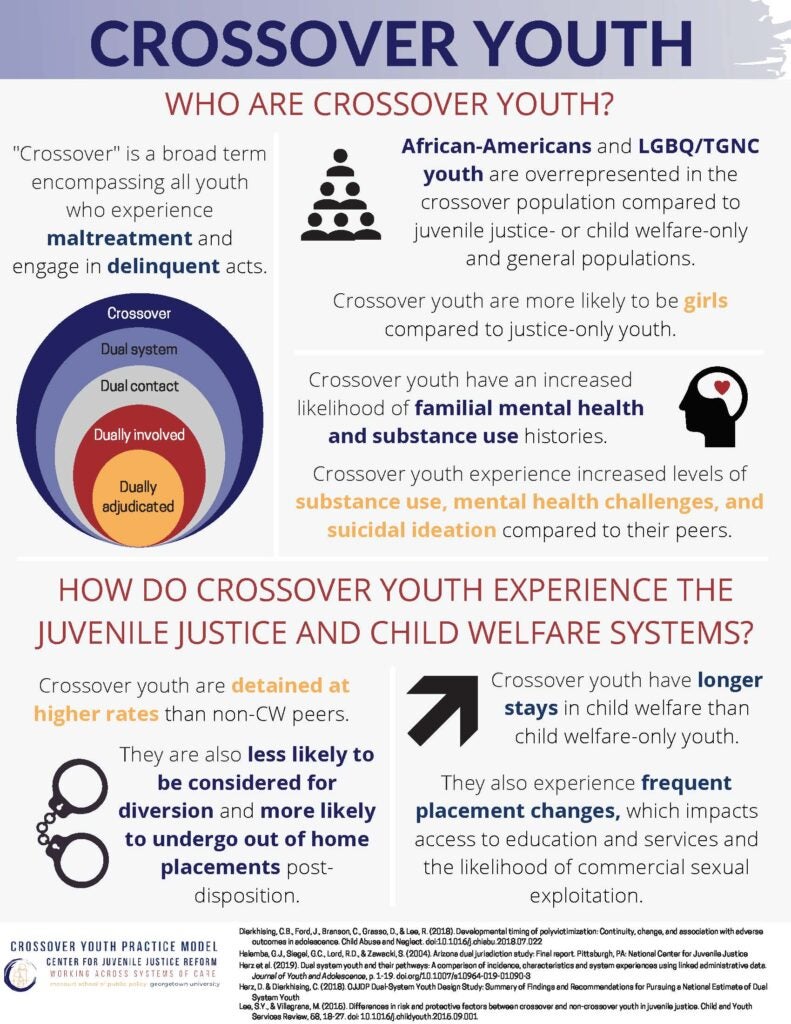 Admission to participate in the four-day virtual conference is $50. We also have a limited number of tickets available for impacted young people and families to participate in the forum free of charge.
The forum will be held virtually from 1:00 pm to 4:15 pm EDT on Monday, July 26th to Thursday, July 29th.
Accommodation requests related to a disability should be sent to jjreform@georgetown.edu by June 4, 2021. A good-faith effort will be made to fulfill requests. A captioned recording of this presentation will also be made available to all registered attendees.