New CJJR Research Publication!
Posted in Announcements News Uncategorized
We are looking forward to this July's 2021 Janet Reno Forum "A Better Path Forward: Restructuring Systems to Support Crossover Youth." The four-day virtual conference will feature a national conversation about addressing the needs of crossover youth, building roads between systems, and listening the voices of youth, families, and staff.
In the weeks and months to come, we will be releasing spotlight materials introducing the conference's topics. ​​​​​​ We hope you can join us, both in July, and in the run-up to the Forum, as we learn more about these issues!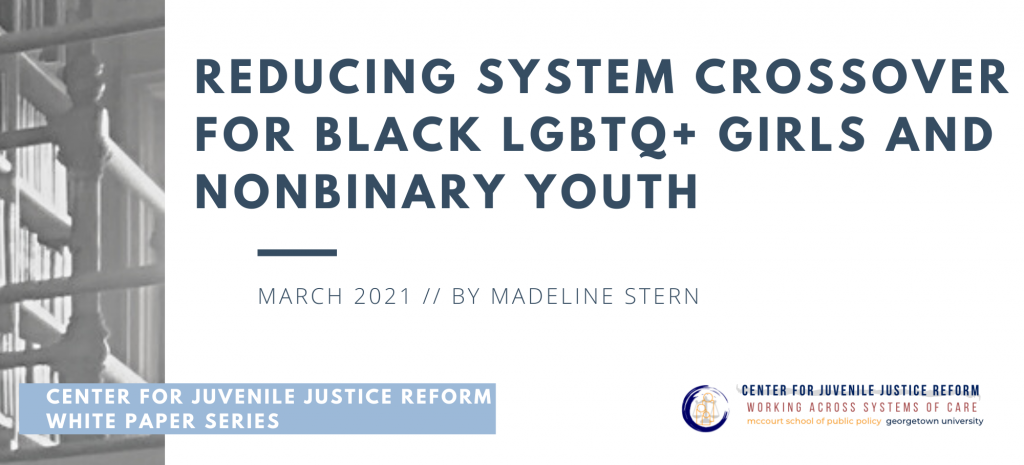 This week, we are proud to release a new research publication by Madeline Stern!
The 2021 Janet Reno Forum will explore how to restructure systems to better support crossover youth, centering the conversations on the experiences of youth and families impacted by the juvenile justice and child welfare systems. This includes dedicated Forum sessions examining how to best address the needs of youth, including commercially sexually exploited youth, youth of color, and LGBTQ+ youth.
​​​​​​​In advance of these important discussions, this new CJJR publication highlights the critical need to ensure that systems fully support Black LGBTQ+ girls and nonbinary youth–a population that is at higher risk for crossover (i.e., becoming dually-involved in both the juvenile justice and child welfare systems) than their non-Black, non-LGBTQ+ peers. ​​​​​​​
The white paper also provides recommendations to mitigate this disparity and improve the experiences of and outcomes for this population of young people.
You can view a preview of the paper below, or download the publication: https://georgetown.box.com/s/zoxeg9576jwyy32ptbnol0006mevixoj (new window)