YICPM Outcomes
The Youth in Custody Practice Model initiative is designed to help systems achieve four primary goals:
Promote safe, fair and healthy environments for youth, staff, and families;
Prepare, equip, empower and support staff to provide effective services;
Increase positive youth and family experiences and outcomes; and
Enhance community safety.
The table below lists some of the anticipated outcomes associated with each of the YICPM's four goals. The extent to which they will apply to a specific site depends on the areas of need identified by the assessment process and targeted by the action plan.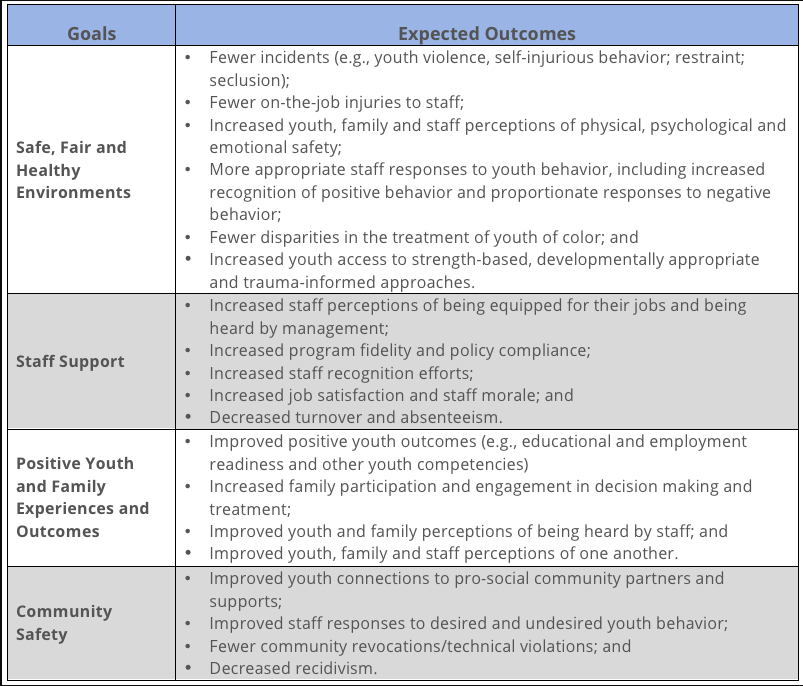 The training and technical assistance package includes a strong data collection component. Dr. Jennifer Woolard, Associate Professor of Psychology at Georgetown University and Co-Director of the University's Graduate Program in Developmental Science, and her staff will provide training and technical assistance to sites to support data collection, analysis, and report writing related to the YICPM implementation. This effort is designed to measure the impact the YICPM has on changing practices and achieving positive outcomes.