Alexander Perry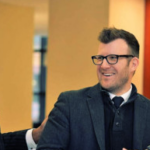 Communications Manager
Alex currently supports and manages a range of communications and community-building efforts for the Center throughout its national footprint. This includes designing and implementing an array of mission-centered communications strategies such as publications, protocols, videos, and webinars, while managing the Center's websites and technology. He also provide programmatic assistance to the Center's various initiatives and the Center's Director and Deputy Directors.
Prior to joining the CJJR in 2019, Alex served as the Associate Director of the Research Institute at DePaul University in Chicago. In this role, Alex helped design and execute the missions of the Arditti Center for Risk Management, the Center for Financial Services, and the Driehaus Center for Behavioral Finance, as well as the Department of Finance as a whole. He helped inaugurate numerous conferences such as the annual Cyber-Risk Conference, the annual Climate Risk Conference, and the internationally recognized Chicago Financial Institutions Conferences held in partnership with the Federal Reserve Bank of Chicago. He also helped design and launch several new graduate and undergraduate degree programs in risk management and actuarial science, co-founded an annual Summer Academy for local high school students, and helped establish a new award for cutting-edge risk management research as well as scholarships for students.
Concurrent to these academic roles, Alex works as a published freelance writer, art critic and journalist, editor, produced playwright, and design assistant. He holds two graduate degrees in Religion and Literature, most recently from the University of Chicago. He earned his BFA in Playwriting from the Theatre School at DePaul University. He lives in D.C. with his two favorite people—his wife and his dog.