Amber Farn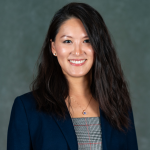 Deputy Director, Certificate Programs
Amber Farn joined CJJR in April 2015. In her current role as Deputy Director of Certificate Programs, she oversees the operation and expansion of Center's multi-system training portfolio. In collaboration with subject matter experts, Amber works with system leaders to develop training curriculum designed to address specific issues in juvenile justice through a holistic approach.

Prior to joining CJJR, Amber worked in South Philadelphia as a City Year (Americorps) volunteer and a student counselor. She also worked as an Applied Behavior Analysis therapist for children with developmental disorders in Northeast Philly. She has now moved back to the DMV area and is a (new) mom of an opinionated toddler. She is a Trekkie with passion for statistics, data visualization, mystery/crime novels, and running.

Amber received her B.S. in Psychology from University of Maryland, College Park; M.Ed in Counseling and Mental Health Services from University of Pennsylvania; and M.S. in Mathematics and Statistics from Georgetown University.