Amber Farn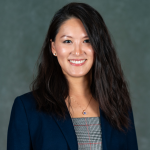 Senior Research Associate
Amber Farn joined CJJR as a Research Associate in April 2015. In her current role as Senior Research Associate, she works as part of CJJR's Certificate Program team to assist local jurisdictions develop local reform efforts (Capstone Projects) and manages the Fellows Network, staying in touch with Certificate Program alumni and providing support, particularly with the analysis of Capstone Project impact evaluations. In addition, Amber oversees CJJR's Knowledge Lab, which is designed to strengthen the connection between research, policy, and practice in child-serving fields. She develops webinars, newsletters, briefs, and other research-based resource materials for systems of care leaders in the field.

Prior to joining CJJR, Amber worked at the Georgetown Health Policy Institute to conduct data analysis and develop policy reports related to youth behavioral health and child welfare. She also volunteered for AmeriCorps in Philadelphia and worked as an Applied Behavior Analysis therapist for children with developmental disorders.

Amber received her B.S. in Psychology from University of Maryland, College Park; M.Ed in Counseling and Mental Health Services from University of Pennsylvania; and M.S. in Mathematics and Statistics from Georgetown University.