Victoria Chamberlin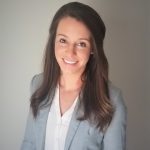 Program Manager
Victoria Chamberlin joined CJJR's Certificate Program Team as a Program Manager in March 2020. In her role as a Program Manager, Victoria assists with the development and execution of new and existing Certificate Programs, and she supports Certificate Program teams through technical assistance, feedback on Capstone Project submissions, and engagement through the Fellows Network.
Prior to joining CJJR, Victoria was a member ICF Incorporated's Justice Research and Victim Services Team. At ICF, Victoria managed programs out of the Office of Juvenile Justice and Delinquency Prevention and the National Institute of Justice. Victoria's portfolio included an examination of juvenile justice reform efforts, a formative evaluation of culturally responsive services for human trafficking survivors, and an evaluability assessment and formative evaluation of youth and adult victim wraparound services.
Victoria earned her M.S. and Ph.D. in Criminal Justice from the University of Cincinnati's School of Criminal Justice, where her research focused on youth victimization and crime prevention. She graduated with her B.A. summa cum laude from the University of Findlay, where she majored in Criminal Justice and Sociology and minored in Political Science and Law and the Liberal Arts.