Christine Humowitz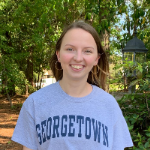 Program Coordinator
Christine Humowitz joined CJJR in January 2021 as a Research Assistant. In her current role as a Program Coordinator, Christine coordinates and manages the Certificate Program logistics and the Fellows Network.
Christine earned her M.A. in American Government from Georgetown University, where she wrote her thesis on the adultification of youth with varying identities regarding race, ethnicity, sexual orientation, gender expression and identity, and socioeconomic status.
Christine received her B.A. magna cum laude from Clemson University, majoring in political science and English and minoring in religious studies.